A mainly dry day with a slight threat of showers, and for a change the wind was coming from the east. I got up early-ish and decided to do the classic eastbound Fondo.
I thought I'd try my leg warmers – it definitely wasn't quite warm enough for bare legs, and they're a bit more substantial than my usual cycling tights. I actually hadn't used them for years. Worked out pretty well. As it turned out I wasn't really warm enough to want to take them off until the last five miles, and I didn't bother.
I noticed I was getting a lot of waves, today. I mean a reasonable proportion of fellow cyclists often nod or wave naturally, and I return the courtesy of course but today pretty much everyone wanted to have a go. Is it because the leg warmers have a ridiculous tarty design with the manufacturer's branding all over them, that shouts "serious cyclist" and makes such pleasantries more gratifying? I don't know. I only bought them because they were cheap.
Anyway I got to the crossroads near Eastwell, my usual eastbound Fondo endpoint, but took a right to Waltham again, same as last time I did this route. This time though I went no further. Stopped at a bench there to eat the cheese rolls I'd brought with me and took this pic. Then I turned back.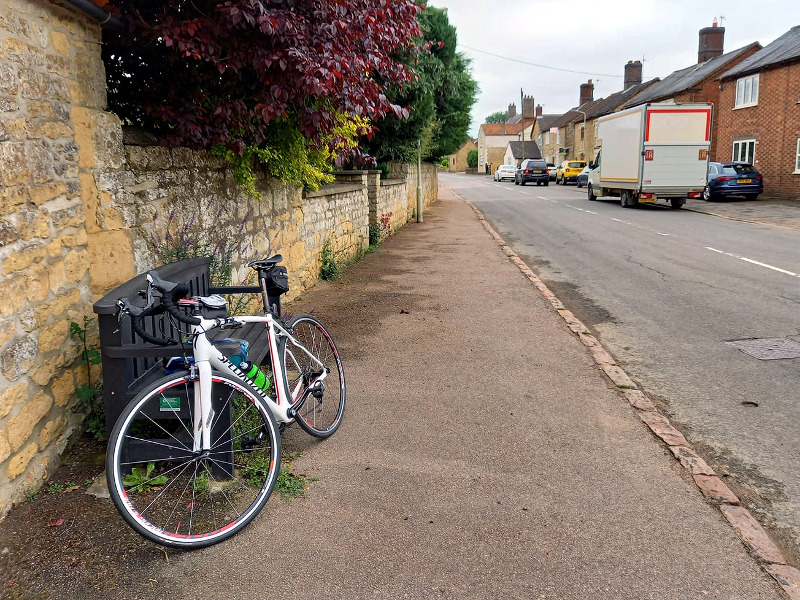 I stopped at a garage at Burton on the Wolds to get more fuel (a cheese & beetroot sandwich and a Malteser bar) on the way back, and stopped at my favourite enormous log near Cotes. Again, I took a pic.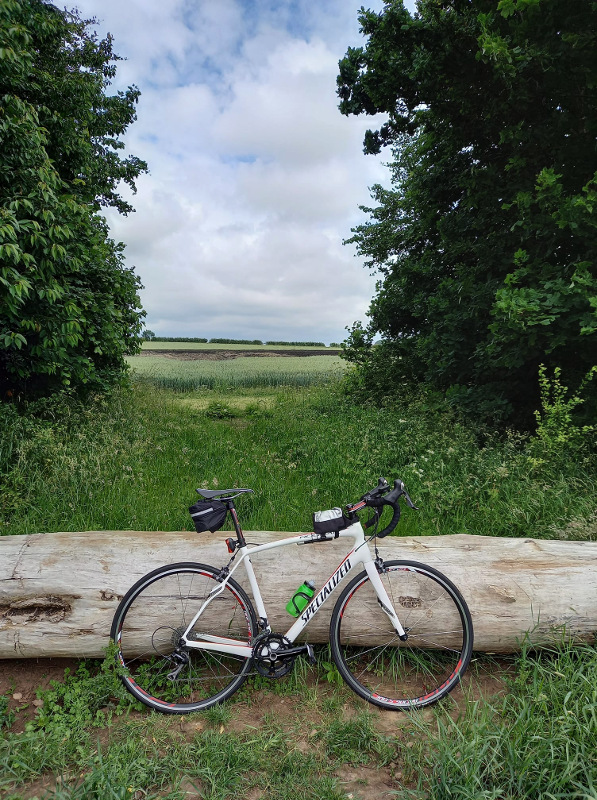 The headwind on the eastward leg of the journey wasn't as bad as I thought it would be. Made me think I should have done a longer ride, really, especially since the nights are now getting shorter. I'd like to do Wales and back this year, although the wind direction wasn't right for that today. But I'm pleased to have done three Fondos in June.
I absorbed more Pushing Ice, the Alastair Reynolds book I've been listening to. I wouldn't say it's a page turner exactly, or whatever the audiobook equivalent of that is. But it's still got my attention. Also listened to a smorgasboard of radio covering tennis, football and most interestingly listeners' opinions on Snog-gate on LBC. As I listened I realised that Matt's position had become untenable, and I became convinced that he'd resign – as indeed he did, a few hours later. The most persuasive argument was offered by a contributor who suggested that if circumstances dictated that he had to ask people to lock down again later in the year, he wouldn't be able to do so without being given endless grief by hostile journos and opposition politicians, and the message would be undermined.
Great shame because outside the fictional alternative universe the Left have constructed to make them feel better about themselves, where everything the Tories do is a disaster – Matt Hancock did an outstanding job in that role. But the Civil Service Stasi have scuppered that now.
Took the long way home back over the Leicestershire border, through Long Whatton and Coleorton.
Back on 72.03 miles, 496 this month.