I've been hoping a suitable day for another long ride out to Norfolk and back would turn up while the daylight hours are in plentiful supply, and today looked like it – not too warm, not overly cold in the morning, sunny but with a bit of respite from light cloud, very light wind.
Unfortunately I couldn't spare the time, today. Stuff to do this evening at home. However I thought I could at least get a Fondo in; maybe even a 100 miler.
I set off fairly late, though. I wanted the temperature to climb a bit first. I left at about 09:40.
Quite cloudy and cool for the first hour and a half or so. I had legwarmers on, and a light fleece over the base layer. I took them off after 25 miles, but they were only really useful for the first 15. I regretted bringing them, and having to carry them round the rest of the ride in a backpack. I should just have tolerated the conditions for the first fifteen miles.
Once or twice in the past I've used a disposable t-shirt – that I've been about to throw out anyway – for the first part of a ride, and left it in a litter bin at a village along the way. Maybe I should have done that.
Anyway beautifully warm and sunny after Burton on the Wolds or so. The idea was to press along the "new" Norfolk route that goes through Walltham, and see how far I got. I decided to turn back after about 42 miles. Very frustrating as I really wanted to press on onto the flat bit of Lincolnshire, just a few miles to the east. It was a lovely route and beautiful weather.
Maybe later in the year.
Listened mainly to Pushing Ice, my sci-fi audiobook which has now taken a turn for the slightly bizarre.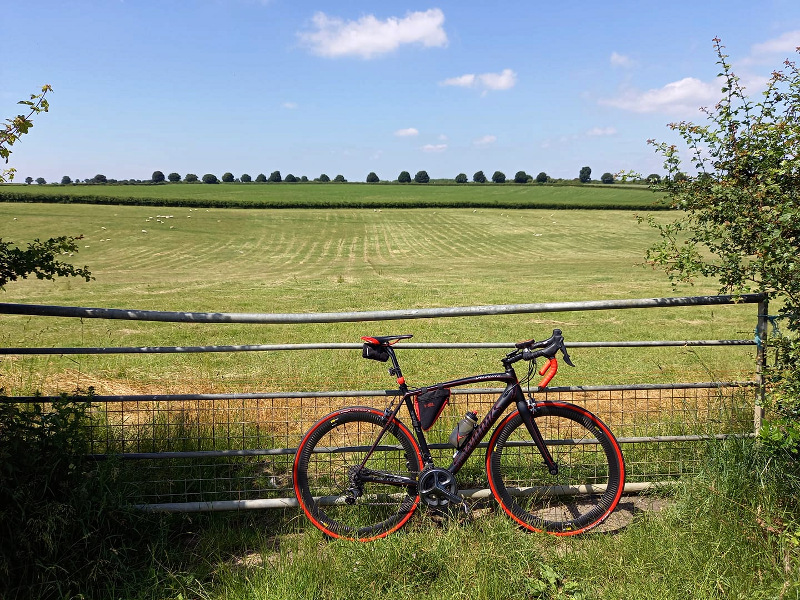 I picked up some refreshments at a deli in Stonesby and had a nice lunch on a bench there. On the way back a couple of hours later I stopped at the same place to get a fizzy drink but just as I was parking up the bike outside their door and pulling off my gloves, one of the ladies working there came and closed the door more or less in my face, turning the sign to CLOSED. Charming. But it was 3pm exactly. Rules are rules!
Fortunately the Post Office a few metres further along the road was open and I purchased a chilled Lucozade and a Bounty bar there.
No particularly interesting wildlife, but I did see a toadstool the size of a tea plate on a grass verge.
Back on 85.27 miles.