A dry, warm day. Feeling a little bit debilitated from drinking every day on holiday last week and I had a couple after I got back yesterday, too. On top of that my knees felt a little tender from walking up and down coastal paths in Devon for a week.
But I'd only had one cycling opportunity so far this month and I'm on call next week, so I resolved to do a Fondo. To keep it easy I thought I'd have a nice, simple run out to Eastwell and back. The default Fondo.
I woke from an unusual dream this morning in which I was cleaning my white leather and suede cycling shoes. In the dream I had a huge emotional attachment to them, as a symbol of my cycling habit this last 6.5 years. When I woke, I realised that they didn't exist.
My knees coped OK and I felt a lot better after a cheese & onion pasty, acquired at the garage at Burton on the Wolds. But I took it easy anyway.
Simply because I've only used it once since I replaced the rear mech, I decided to take the Boardman. And I realised after about ten miles or so that I'd come out without a spare inner tube – I took the saddle bag off when I cleaned it in May, and never put it back. After that I toyed with the idea of turning back early and making up the Fondo miles closer to home, but ultimately I decided to press on. The probability of picking up a puncture over 20 miles from home seemed pretty low.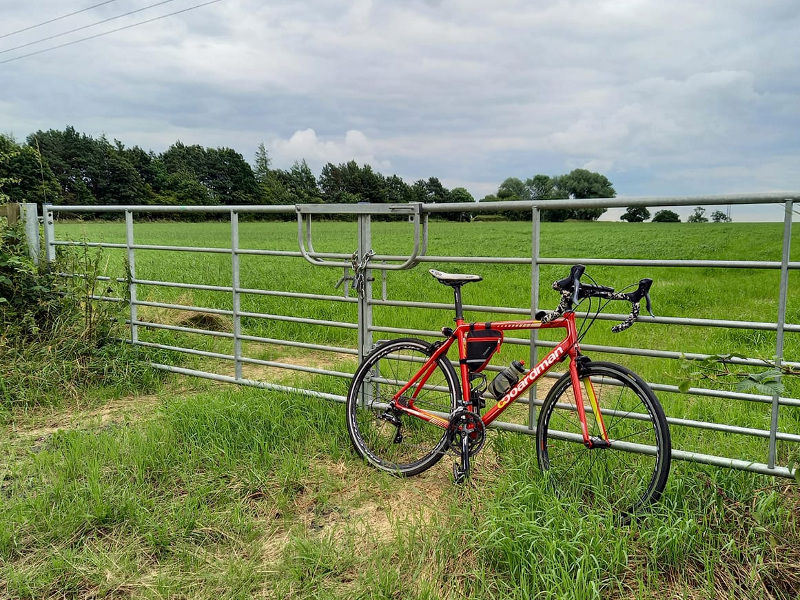 I turned back at the crossroads near Eastwell. I was slightly annoyed to experience a headwind now and then on the way back, because the weather forecast had promised me a sidewind both ways. I came back through Long Whatton, Diseworth and Coleorton, which added a few miles.
I listened mostly to Pushing Ice but also, on and off, to the Men's Singles Final at Wimbledon.
Quite a few cyclists out today, no less than three of them black people. I only mention this because it's quite rare to see a black person on a bike in the East Midlands; typically I see one every couple of months. So that was unusual, and good to see.
65.25, 151 this month, not bad for two rides. Should be able to push that up to 400 by the end of the month, I think.