Warm and sunny again. I'm on call but thought I might crank out 40 or so after work. No real route or plan in mind, even as I set off, except not to venture too far from home.
I took the X, only because I hadn't used it for a couple of months. Since buying the Roubaix then bringing my second Boardman home from my mum's garage there's no doubt that I have at least one bike too many now. Not worth the space it's taking up in the garage, whichever one it is.
What I could do I suppose, is do something to the X to make it a bit different. Put straight bars on it or something.
Anyway it rolled along pleasantly enough and I rode up through Coalville to Belton, then west through Diseworth, Breedon, sharp turn up to Melbourne then to Ticknall. I took this pic a mile or two from Ticknall. Love the view from the top of that hill.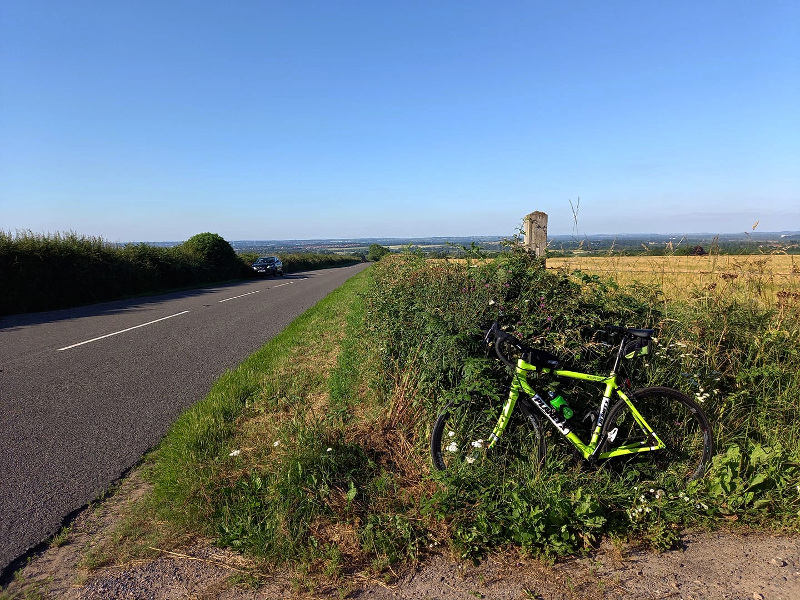 From Ticknall I took the detour through Hartshorne to get me out of ascending Bastard Hill. The detour probably involves more climbing overall but it doesn't have the psychological brutality of having to do most of it over a short distance.
Took this one at Ashby, five miles from home.
I was a bit disappointed that I reached Ashby as quickly as I did. Thought I'd have done about 35 by then, but I took a quicker way back from Hartshorne, along a road called Manchester Lane that I used a couple of times years ago then forgot about. It's pleasant but a bit climby.
Must admit I did feel guilty approaching the garage with a couple of hours of warm daylight left. But oh well, I might do a long one on Monday and the weather looks nice until Saturday.
Listened to LBC, then more Pushing Ice, then Marc Riley on 6 Music. My enjoyment was diminished somewhat by the failure of my right earplug. It's gone inexplicably quiet. Fortunately I have loads of them so I've binned it.
Back on 36.60 miles.