Attentive readers will remember that I performed a 200 mile bike ride to Norfolk and back, one day last June. I'd been hoping to do a similar ride using a more efficient 170 mile route this year for a while, and yesterday looked like suitable weather for it. It would be uncomfortably hot for a couple of hours in the afternoon, but cooler to the east. I'd be able to wear light clothing all day, which is just what you want on a long ride.
I set off at 04:40. I was actually on call until 08:00. If I'd got a call before 06:00 or so I'd have turned back, if absolutely necessary, to attend to it. If I got one later than that but earlier than 07:30 I'd be stuffed, but I assessed the risk as being very slight. I thought this would probably bother me over the first couple of hours but actually I pretty much forgot about it.
A little bit cooler than I'd have liked first thing in the morning, but not uncomfortable. I really enjoyed myself from the first turn of the cranks. A big contrast to my 200 miler when I was cold and a bit out of sorts for the first 35 miles. But I hadn't slept particularly well if at all that time; this time I did get a few hours of sleep before I sprang out of bed at about 04:00.
Really nice to be out in the open countryside so early in the day. The fields near the river at Zouch were shrouded in ground mist illuminated by the early morning sunlight. Spectacular.
I encountered my first problem a few miles west of Bourne. I'd been ignoring ROAD CLOSED signs for about five miles, assuming that I'd probably be able to sneak past whatever road works were taking place – which is usually the case. However, metal barriers had been placed right across the width of the road. My negotiations with one of the workers at the scene, in charge of a mechanical digger, did not prove fruitful. He wasn't going to let me wrestle the bike through the bush at the edge of the barriers.
So I tracked back, and followed the long, annoying detour along a slow, narrow, extravagantly potholed road to circumnavigate the road works.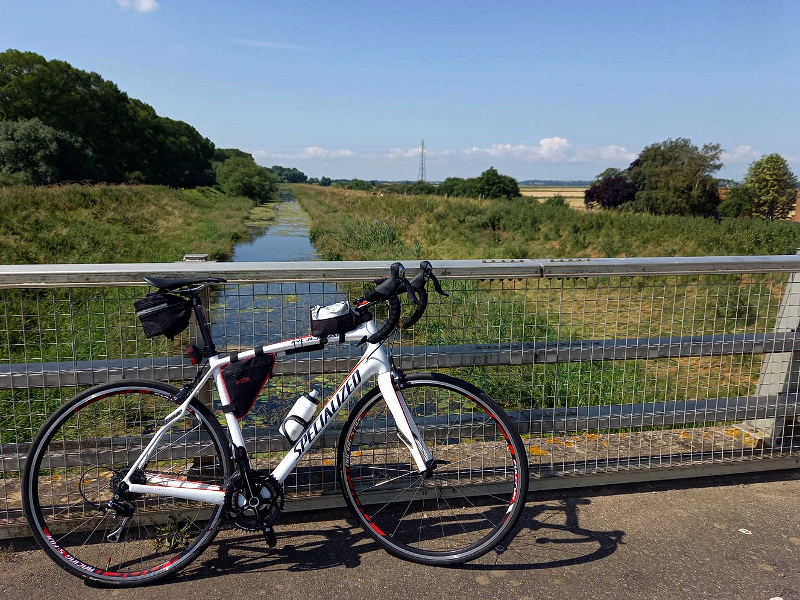 Not long after Bourne, I re-acquainted myself with the flat Fenland part of Lincolnshire. Very distinctive part of the country with long, straight roads lined by drainage channels. Deathly quiet, as well. A bit of a post-apocalyptic vibe, somehow reinforced by the blinding sunshine.
My next problem arose not long after I'd stopped to refuel (a cheese sandwich and bottle of fizzy drink) at a shop on the outskirts of Spalding. My Garmin eTrex, to which I'd uploaded a map of the route, stopped working properly. The LCD screen became washed out and unreadable. It's done this once or twice in the past and I'd thought it was probably a firmware bug. It's always corrected itself after a minute. But now it was persistent; unusable. I suspect it's a hardware fault that's provoked by the heat. It had been standing in the sun outside the shop.
I pressed on regardless, hoping to navigate to my endpoint, the Norfolk border east of Sutton Bridge, from memory. This wasn't successful, unfortunately. I took another wrong turn not long after this, and had to resort to using Google Maps on my phone to get back on track. Eventually at Fleet Hargate, about six miles from target, I decided to turn back. I knew I'd have to take the detour near Bourne again and I didn't doubt I'd misnavigate again on the way there at least once (and I did; I missed a turn at Tongue End and continued down to Baston).
The hot sun was merciless for a couple of hours in mid-afternoon, but I knew it would be. Worth it to able to have relative warmth for the last couple of hours after 20:00. I stopped at a village shop at Buckminster and had an egg mayonnaise sandwich, a sausage roll, chocolate ice-cream and another 700ml of fluids. I doubt that this would be considered the best sort of athletic nutrition by a sports dietician, but it works for me.
Despite the detour and navigation errors I'd made better time than I thought I might by the time I was back in familiar territory, west of the A1 so I indulged a deliberate diversion through Hoton, Wymeswold and Rempstone. The last 30 or so of a 150+ mile ride can be harrowing when it's cold and dark, but I remained in good spirits throughout. Warm weather and a late sunset helps a lot. Having a decent rest stop 45 miles from home was invaluable as well, I'm sure. Another thing that kept my spirits buoyant all day was the unusual number of women out and about in tiny shorts, in the various villages and towns. That sort of thing really elevates my mood. I'm sorry. It just does.
Although my Garmin eTrex let me down, my solar-assisted Garmin Instinct GPS watch performed like a champ – it still had 36% of juice left (about ten hours) after tracking the ride for eighteen hours. Brilliant to have an unobtrusive, lightweight GPS device that can be trusted to track the longest ride. Even in dull conditions I believe I could get 200 miles from it.
I listened to an entertaining, and encouragingly civil discussion between Alastair Campbell and Peter Hitchens, about the easing of the COVID restrictions on Naga Munchetty's 5 Live show. One is as congenitally dishonest as the other is barking mad, it seems to me. This was of course "Freedom Day", a term I personally dislike quite a bit because it has been taken to heart by people of a certain persuasion as a sort of clarion call for their right, as they see it, to pretend that life should go on as if the virus no longer existed.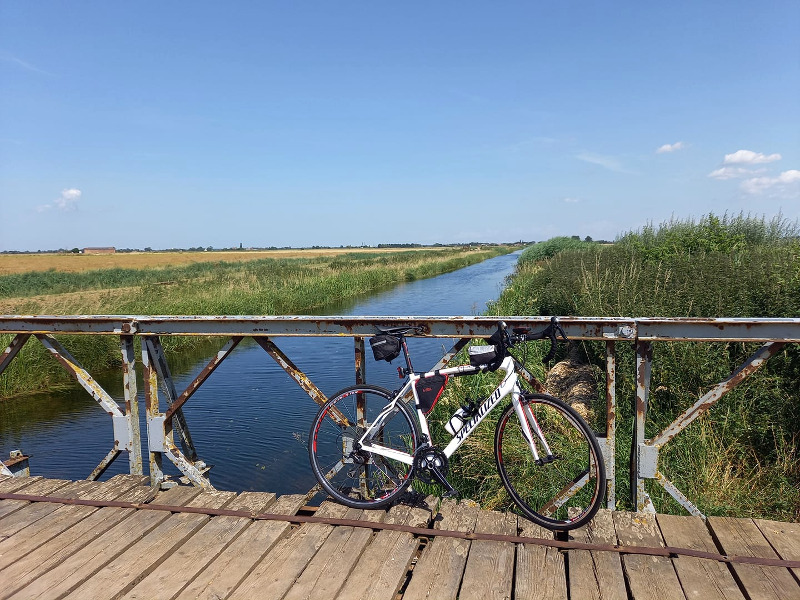 I also finished off my audiobook, Pushing Ice. Having consumed the whole thing now I must say it's an ultimately unsatisfying product. The payoff doesn't quite work and it's much too self-indulgent and rambling. It's a bit like a really good sci-fi novel, a decent sequel and a pretty incoherent, dead-horse-flogging second sequel all crammed into the same book. That said, there are some amazing ideas in there, really mind-expanding stuff. And some dark comedy. I love the description of the Musk Dogs, a highly factional, alien species, each of which resembles "two or three scabby street dogs fighting over a scrap of meat; an unruly mass of mismatched limbs .. too many packed eyes above a toothsome black muzzle". Unfortunately they work quite well as a metaphor for the book.
My knees were hurting a bit after 150 miles but definitely not as much as last time I did that many, last year. Still improving. No worries.
Anyway – frustrating that I didn't quite make my intended destination – I'd been looking forward to spending a few minutes looking over the River Nene. But a good run out nonetheless. 172 miles.