A dry, mild afternoon and I was able to leave work early – at the cost of having to work later this evening – and mount a bicycle at about 3pm.
The wind was blowing fairly powerfully from the south. I left with the intention of doing a southbound fondo. However by the time I reached the T junction at Potters Marston after 17 miles, I'd decided not to do that. The headwind was annoying me. And besides, I thought – who really gives a toss if I do five fondos in the same month? It would be a personal record, but I decided I wasn't that bothered about it.
So I decided to go left instead of right, explore for a couple of miles, then turn for home.
However – by the time I'd reached a village called Huncote I'd come down a longish, steepish descent that I didn't really fancy coming back up. I kept going until I hit Narborough, on the south-western outskirts of Leicester – then I followed a sign to Stoney.
This wasn't a great idea really because it took me along a pretty busy B road in rush hour. Funny how B roads can be bigger and badder than A roads, sometimes. Three or four miles later though I found myself on the usual southbound route, so I followed it home.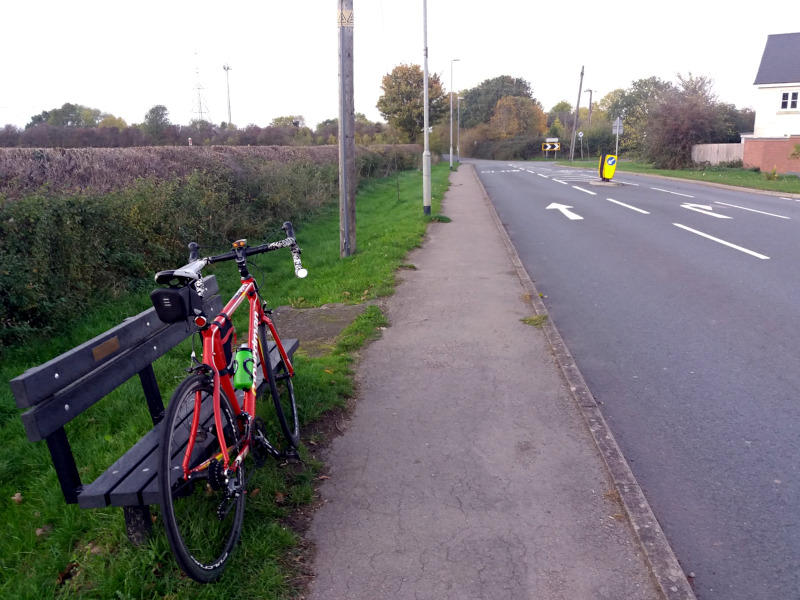 It was getting dark by the time I rolled through Stoney, so I put my lights on. By Ibstock, the rechargeable rear light had run out of juice (I might not have noticed this for a while, but a passing motorist tactfully drew my attention to it). Not to worry, I'd brought a spare of course. A little clip-on flasher. I clipped it to the hem of my cycling jacket at the rear.
A mile later I got beeped at again. I reached behind to check the clippy red flasher was still there; it wasn't. Fortunately the rechargeable cell in the main rear light had recovered sufficiently to see me home and I only had a couple of miles to do at this point, though I was a bit nervous in the pitch-dark coming up from Ibstock before I reached the street lighting at the outskirts of the village.
Nice to have a bit of an adventure on a new stretch of road but the rush hour traffic spoiled the party a bit on the way back.
Back on 42.29 miles, 494 this month. More than happy with that, but perhaps the weather will permit another run out before November. Currently the forecast claims rain every day for the rest of the month.