Rain this morning but a very mild day – almost warm – and the roads dried off eventually. I decided to make the most of the unseasonal weather and set off at about 3:15pm under strict orders from myself not to do less than 36 miles, which would take me to 530 this month.
I was going to take the red Boardman but found the rear tyre a bit soft. I thought I'd probably get away with 30-odd miles if I pumped it up but I decided not to risk it. It must have a slow puncture and I'd probably have worried about it for the whole ride. So I took the X instead.
Really remarkably nice out there considering we're on the cusp of November, especially early on when it was sunny. Late-summer-ish.
Today's plan was to do a Twycross Bypasser as far as Kisses Barn Lane, then take a right instead of a left to explore new parts in the approximate direction of Tamworth.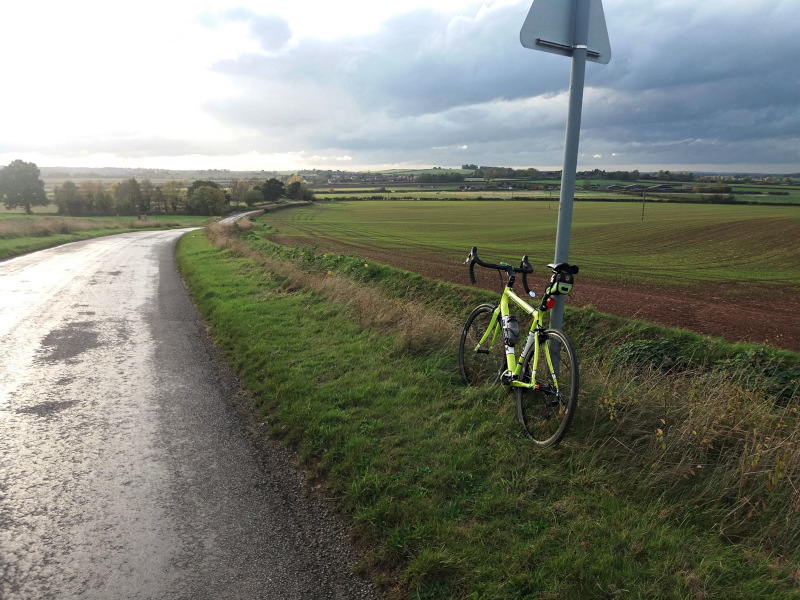 So I did that. Despite a bit of climbing, the road toward Tamworth was very pleasant. I kept going until I was in the suburban outskirts of Tamworth itself, then came to a roundabout with no appealing options except to turn back, which I did. However on the way back I decided to take an unplanned turn signposted to Shuttington – just to see if I could find my way home from unknown territory. I knew I'd seen Shuttington on a map but couldn't remember where it was.
Before long I saw a sign to No Man's Heath, which was on one of my regular routes years ago, so I followed that one. However I arrived at a T junction, at which I assume I was supposed to guess whether to go left or right, because No Man's Heath wasn't signposted from there. But I could see the Lichfield transmitter in the distance to my left, so I turned right. No Man's Heath was about a mile further on and I took a time-honoured route home from there.
I'd expected my adventurous orienteering to knock my distance up considerably, but nope – I'd only done 31 miles when I got to Heather and although I could have added a mile or so by detouring through Ibstock, I didn't bother. Back on 33.0 miles. 527 this month.
Listened mostly to footy on 5 Live, Brighton vs Chelsea. Highly entertaining, although every time Brighton scored, you'd think the match commentator (Ian Dennis) had had an electric cattle prod stuck up his bum.