With the wind blowing from the east again and a dry day promised, I couldn't pass up an opportunity to do my favourite fondo, along the eastbound route. I set off at about 10:35. I took the S Works. I inspected and relubed it last weekend after the chain skipped a couple of times on its previous ride, so I was keen to see if it would behave this time (and it did).
About a minute after I set off, I noticed that my Casio GPS watch wasn't recording elapsed distance. I realised that I'd left it on 'Airplane' mode. I stopped to fiddle with the menus and as I did so, an elderly gentleman strolled over for a chat. Lovely old bloke. Told me that he'd been a keen cyclist himself in his youth, and during "the year that peace was declared" (1945 of course) he'd cycled around Wales at the age of 14.
The headwind was pretty annoying on the outward leg of the trip, so I was very pleased to arrive at the crossroads at Eastwell, where I intended to turn back. I'd done slightly less than half a fondo distance and I intended to cut across to Wymeswold via Narrow Lane on the way back, which would cut about 0.3 miles off the trip, normally. But I also intended to make up the miles by detouring through Diseworth and down Top Brand once back over the Leicestershire border.
I had an impromptu picnic on the grass verge before I turned back.
As things turned out, I didn't have to make up any distance because I missed a turn at Wymeswold and continued on to Hoton. I had to consult Google Maps to get back on track. Fortuitous though because that stretch of road is really quiet. It was lovely in the sunshine. I really must go that way more often. It probably saves a bit of climbing as well (I'll check that).
I did detour through Diseworth and down Top Brand regardless.
I'd forgotten that my right cleat had slipped out of the pedal a few times on the last ride I did with the same shoes, and it slipped out even more often this time. Annoying. Just hope I remember to replace it before the same thing happens again.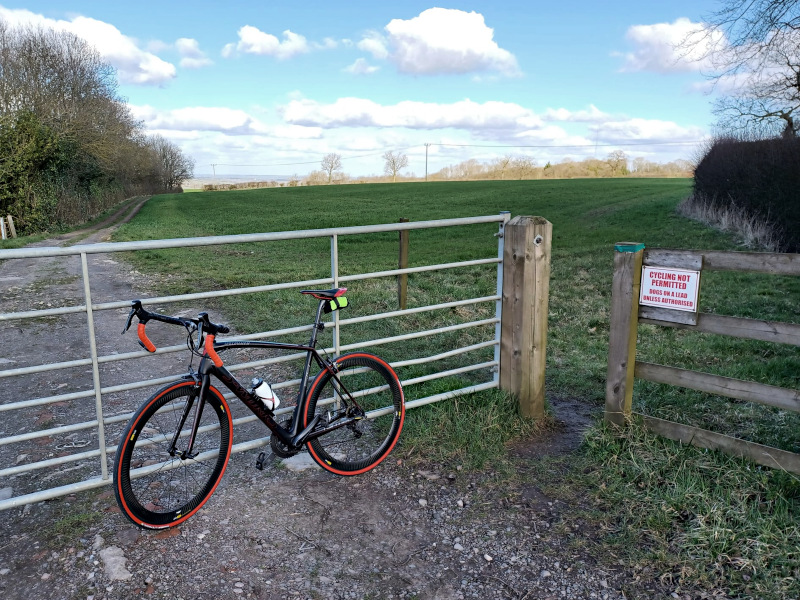 Listened to 6 Music, then Spurs vs Chelsea. But I got bored with that fairly quickly so I listened to the second Rolling Stones album, the unimaginatively titled The Rolling Stones No. 2. Very similar to their debut, maybe a bit more light and shade. Definitely better recorded. But pretty basic R&B covers. It was released at the beginning of 1965. They were light years behind The Beatles in terms of imagination, songwriting, production, ambition, everything.
It was a real faff, yet again, to get the track off my Casio watch and onto Strava. I think I'll give up on using that watch for bike rides.
Anyway .. back on 65.76 miles. That one takes me to 516 miles this month and 1044 this year. Don't think I've ever got to 1000 miles so early in the year before.