The weather outlook for today was very promising on Friday, so I booked the day off work to do a long one. The forecast deteriorated a bit over the weekend, but I was undeterred.
I wanted to do at least 100. With the wind coming from the east and the sun due to come out earlier in the day over that way, I decided on the eastbound route. I was up early and I set off at 0745.
On recent long rides I'd suffered cold conditions earlier in the morning to avoid carrying extra clothing with me in a backpack, but I wasn't going to do that this time. Instead, I adopted a new tactic. I wore overtrousers and a nice warm fleece, but I removed them and hid them behind a hedge next to a public footpath after 30-odd miles. I wrapped them in a sealable plastic bag I'd brought with me for this purpose, then uprooted some long grass to make a sort of camouflage net. This worked very well; in fact when I picked them up on the way back I had trouble seeing the bag for a moment.
I went through Corby Glen and Grimsthorpe this time. Sometimes I take a lower route through Little Bytham and Witham, although I haven't been that far along the eastbound route many times. I went all the way to Bourne, then onto South Fen Road, onto the Fens. I was quite impressed with myself for finding my way through Bourne without consulting Google Maps or taking a wrong turn.
South Fen Road is an odd sort of place. You feel like you've left civilisation, on the normal, non-Fens part of England and crossed into the Cursed Earth. It's really badly surfaced in places, though not so bad where I took the pic below. It feels a bit desolate, though I quite like that.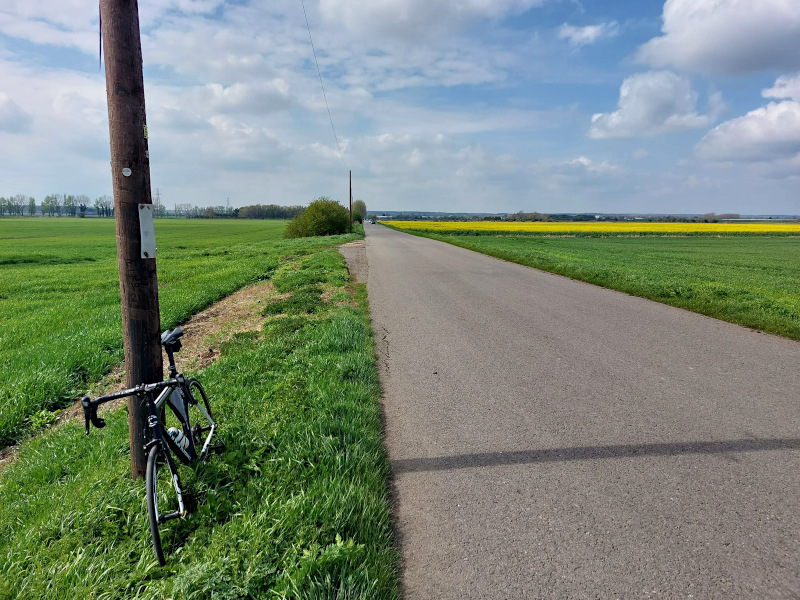 I'd done more than 59 miles by this time. I decided I'd keep going until I'd clocked up 60, then turn back. However about two minutes after I took the pic, I noticed that the steering had become a little skittish .. yep, a puncture.
I stopped, upended the bike, removed the front wheel and wrestled off the tyre. Replaced the inner tube, wrestled the tyre back on, pumped it up. I was more than happy with the performance of my mini-pump – although it doesn't have a gauge I'm pretty sure I got at least 80PSI into the tyre. I didn't pick the best spot to get a puncture; the grassy area to the side of the road was in reality more heavily populated by nettles than grass, and I had the unwelcome tingle of stings induced by hostile vegetation all the way back home.
I decided to turn back there and then of course, but I was feeling quite pleased with myself until I got to Bourne, and noticed that the tyre was soft again.
What now? I didn't have another spare inner tube, of course. So I propped the bike up against Boots the Chemist, then did a search for "bike shop" in Google Maps. A bicycle repair business called All Geared Up was located only about a mile away. I pumped more air into the tyre and set off to find it.
As I neared the location, I realised that it wasn't a traditional bike shop but a regular house on a residential road. I arrived there and rang the doorbell. No answer. WTF was I going to do now?
But a minute later, a friendly chap emerged from a side gate. He explained that he'd been mowing the lawn. Could I buy a couple of inner tubes from him? No problem! He didn't take cards, but I managed to bank transfer the £12 payment from my NatWest app.
I asked if I could borrow a stirrup pump for 15 minutes, but he opened the door to his garage workshop, told me to put the bike on the stand and fitted one of the new inner tubes for me himself. I must say he managed it a lot quicker than I had, half an hour earler. What a lifesaver. I thanked him and he returned to his lawn-mowing duties.
Fortunately the new inner tube made it all the way home.
The weather was beautiful in the afternoon; warm and sunny. I had a feast at the bench outside village shop at Buckminster 39 miles from home and bought more fluids – my bidon had run dry by this point, so a cold Diet Coke was very well received. I bought myself some chocolate as well, to consume about 15 miles from home. Definitely helps with the gradual homeward climb over the last ten miles.
Back on 120.32 miles, seven minutes after sunset. And that's a very healthy shot in the arm for the April distance count, which now stands at 453 miles. 1800 done this year.
https://www.strava.com/activities/8908853158
Over 38,000 miles of riding a bike, I've only had a puncture about four times. And yet two of them have been within a mile of the most distant point of unusually long rides, the other one being the first Wales and back trip. That's unfortunate, isn't it?