Not a bad day at all, very dry, cloudy but bright and very liight winds. Unreasonably cold for late April, but I wrapped up warm.
Today's mission, after work, was to do at least 40 miles, to bring me within plausible reach of getting to 600 miles in April on my next ride. I thought I'd go up into Derby for a change.
I took the Boardman, to give it a post-service check.
I went up Top Brand, past East Midlands Airport where I had a nice view of a Learjet 45 taking off, through Donington, over Cavendish Bridge, through Shardlow and up to Borrowash, where I took a left turn toward Derby.
I decided I'd go up to Oakwood via Spondon, but I took the wrong right turn the first time. I ended up with a choice of joining the A52 during the rush hour, or turning back. So I turned back to Derby Road and took the correct right turn, along Willowcroft Road.
Kept going until I saw Sancroft Road, which I recognised as being part of my way home to Oakwood when I lived there and had a girlfriend in Spondon, 32 years ago. I used to cycle that route sometimes on my old Raleigh Routier as well, so it was quite a trip down Memory Lane.
Got to Oakwood, came down Acorn Way. Then I came home via Aston-on-Trent and Weston-on-Trent, through Melbourne and home the usual way. I didn't enjoy Rotter's Rise but it wasn't too punishing.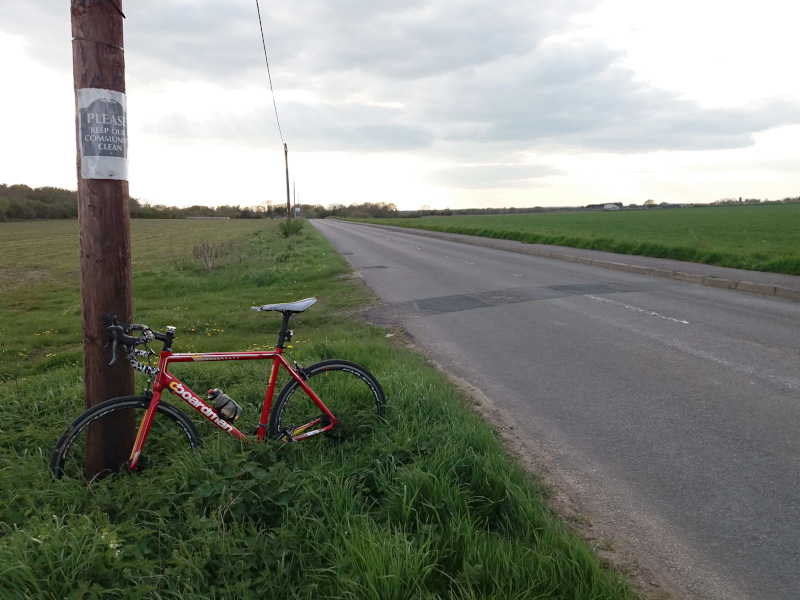 I really enjoy my cycling visits to Derby and I'd do them more often if not for having to negotiate a busy roundabout over the A50, either at Swarkestone or Donington. Going through Aston and Weston avoids that to be fair, but it's a very indirect route.
The bike is running nicely following its service. I did tweak the front Disraeli thumbwheel a bit, but that's fine. But what did annoy me a little is that the stem hasn't quite been put on straight. The handlebars are angled at about 93 degrees from the line of the front wheel.
Still – it's an easy enough fix. And an excuse to swap out the old steel rear stem bolts, which have a bit of surface rust, for some titanium ones. The faceplate bolts have already been swapped out. I've got some new handlebar tape for it, as well.
Back on 46.17 miles – 566 done this month. Should be able to get another 34 miles in on Friday.