I had a tentative intention to ride to Wales and back today. I decided that if I woke up early enough and I felt like it, I'd do the necessary 140-odd miles to penetrate the land of dragons, leeks and Gareth Bale.
I did wake up at about 0400, but I only got as far as the bathroom before going back to bed. After all long bike rides are a lot of fun, but sleep's nice as well, isn't it?
I got up again at about 0830 though, and I'd set off on a bike by 0940 with the more modest goal of doing a fondo.
The weather forecast prompted me to go west, for two reasons – firstly, it wasn't going to rain over that way (whereas it was going to, supposedly, at home) and secondly the wind was coming from that direction.
I decided on my Upper Westbound Route, up over Swarkestone Bridge then west along the Beloved A Road.
Annoyingly I left my GPS bike computer in the house, so I tracked the ride using the RideWithGPS app on my phone. This meant of course that I wouldn't have a view of the distance I'd done without stopping to take out the phone, but I've memorised a few distance points on that route. I knew when I'd done ten miles, and fifteen, and twenty without checking the phone.
By the time I got to Sudbury after 25 miles, I'd decided to do something a bit different than just going back the same way. I decided I'd go south to join my Lower Westbund Route through King's Bromley, Edingale, Lullington and Measham. I've done this before a couple of times and was a bit reluctant to do it, because it involves a punishing rollercoaster of brutal hill climbs. But I resolved to grin and bear it.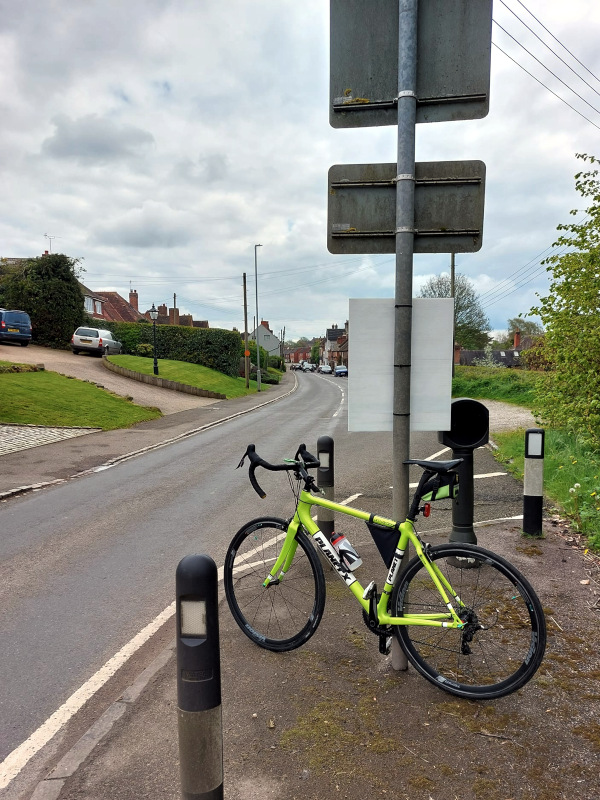 The other problem is that the whole route doesn't quite add up to the requisite fondo distance. So to compensate, I opted to go a bit further west for a bit. Therefore, after about five miles of heading south down from Sudbury, I took a right turn for Hoar Cross. I knew I could get to Abbots Bromley easily from there, a few miles to the west. And that's a familiar destination from the Lower Westbound Route.
Unfortunately the road from the main road to Hoar Cross offered a fast, steep descent over a bumpy surface well furnished (today at least) with puddles, so the bike and I picked up a few splashes. I won't take that turn again. I stopped at a bus shelter when I got to the village to consume the food and tinned coffee I'd bought at a petrol station a few miles previously. Then I set off to Abbots Bromley, about three miles further on to the west. A much better road from that point on.
Wasn't sure if coming home my usual way from Abbots Bromley on the lower route would see me home on a fondo distance – so I kept going west through the village for a mile or two before turning for home. I didn't need to, as it turned out. I'd done 66.62 miles when I arrived back at the garage.
As I negotiated the right turn into Grangewood Road between Lullington and Acresford about ten miles from home, I took the trouble to return a smile and a wave to two cyclists coming the other way. A motorist at the junction took great offence at this. He beeped his horn and gesticulated aggressively, as if I was inconveniencing him. I hadn't even slowed down, but you'd think I'd parked my bike in front of his car. Unbelievable. I gave him a withering look and a slight shake of the head, intended to convey a sense of disbelief blended with pity.
Really a very nice run out. The Lower Westbound Route is a lovely proposition on a sunny day. Nice and warm as well, later on. I stopped after fifteen miles to remove my tights and an upper layer and stuff them in my back pack.
That's 2017 done this year.